Apply online
Visit our office
Mail documents
We prepare your documents and application
Receive visas
Submit application in person
Expert in Egypt visa services since 2003,
VisaHQ is a private visa agency, not affiliated with the government of Egypt. VisaHQ provides
expediting services
error-proofing your application
hand-carry delivery to Consulate
real-time status updates
dedicated call center
for visa to Egypt and charges a service fee. See how we compare in the 90 seconds
video
Additional costs (IPV polio and invitation) are included to total fee.
Fill out Egypt tourist visa application form online
and send the following documents to VisaHQ:
a
Egypt visa application form. Upon order completion, please download, print and sign Egypt visa application, prepared by our system under your account.
b
Original, signed Pakistan passport with at least 6 months of remaining validity.
c
Passport Photo: 2 Include a passport style photo, with a white background, taken within the last 6 months. You may also choose to upload a photo to your order for us to print. There is a surcharge associated with this service.
d
Employment Letter. Copy of a letter from your employer on business letterhead, with contact details, stating that a leave of absence has been granted, purpose and duration of the trip, and that you will be returning to your current job. If you are self-employed, include a copy of your business license and tax return. For students, please submit an official letter from your school indicating that you are in good standing and that you are registered for the upcoming semester. If you are retired please submit proof of your retirement fund.

e
Proof of business activity. If you have own business you should provide NTN Copy with last 2 years tax returns and Letter Head of own Business.

f
Bank statement. Copy of bank statements from the past 3 months. The statement must clearly show the applicant's name as the account holder, the balances of the accounts, and the date of the statement. Accounts maintaning certificate from the bank should be provided.

Egypt tourist visa fees for citizens of Pakistan
Type of visa

Validity

Maximum validity refers to the period over which you are allowed to enter a given country. Validity of visa starts from the date of issuance of visa.

Processing

Processing times start on the next business day following submission and serve as indications of processing times under normal circumstances only.

Embassy fee

Service fee
Total cost

Single entry

up to 2 months
60 calendar days
110.00
50.00
160.00
Validity: up to 2 months
Processing: 60 calendar days
Total cost: 160.00

Cost calculation

Embassy fee:

110.00

Processing:

50.00

:

0.00

Total cost: 160.00
Maximum stay in Egypt:
30 days

Maximum stay refers to the number of days allowed on a single visit.
Maximum stay in Egypt: 30 days

Maximum stay refers to the number of days allowed on a single visit.
Egypt visa for citizens of Pakistan is required. For more information please contact the nearest
Egypt embassy
.
Find us near you
To apply for Egypt visa in
Address

VisaHQ.pk Suite 302 – 311, Balad Trade Center Alamgir Road, Bahadurabad Karachi 74800

Office hours

Monday — Friday

9:00 am - 5:30 pm

Email

>a/< k;211#&;64#&;311#&;401#&;79#&;511#&i;811#&;46#&;111#&;201#&;011#&;501#&>"k;211#&;64#&;311#&;401#&;79#&;511#&i;811#&;46#&;111#&;201#&;011#&;501#&:otliam"=ferh a<
Egypt visa information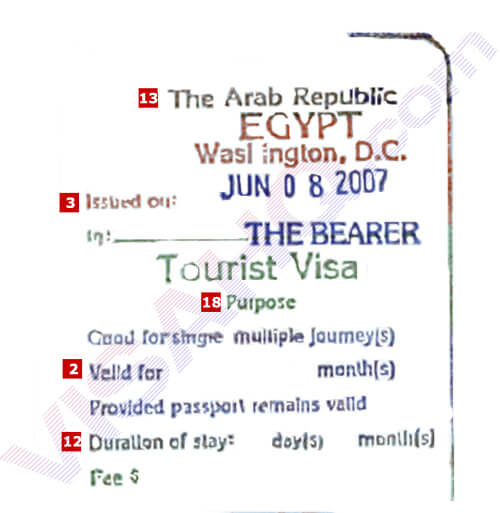 3
Egypt Visa issue date (format might be different from MM-DD-YYYY).
12
Maximum duration of stay in Egypt per each entry.
13
Egypt Consulate that issued a visa.
18
Purpose of entry to Egypt (type of Egypt visa)